Lead Free HAL PCB Prototype
Specifications
2 Layer PCB, RoHS
FR4, 1.6mm thickness
Lead Free HAL finishing
CNC: Route and Retain with mouse bites, stamp holes
Lead time: 3 working days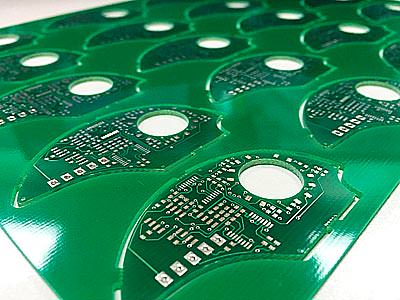 Product ID : 10
PCB-togo.com has the most devoted engineering team and the most advanced technologies to provide world-classPCB manufacturing service for the industry. Based in Taiwan, we offer our professional services worldwide. Printed circuit board is used in electronics to build electronic devices. The board is made from glass reinforced plastic with copper track in place of wires. The manufacturing is used to support and connect components making use of conductive pathways, tracks or signal traces etched from copper sheets laminated onto the non-conductive substrate.
The PCB supplier provides qualified printed circuit board, which is the main connection in electric products. Thus, it is a must within electronic components. Nowadays, all electric products such as PDA, cell phone and PC need printed circuit board manufacturing. We, PCB-togo, fabricate your printed circuit board precisely, and turn your design into reality with high quality and speedy production. As a reliable supplier, we can produce boards from 1 ~ 34 layers, with FR4, FR5, Aluminum, Copper, Metal core, Polyester material and other material that you have in mind.

The manufacturer is equipped with the following board finishes with HAL, Immersion gold, Immersion silver, OSP (ENTEK), Hard Gold and soft gold. With our development over the years, we have a strict production line for both mass and sample production. Yuan Guang is a good PCB supplier who provides services with qualities, and are very well known on the markets through the whole world.

We have good and modern facilities for products as, even better than other supplier in the industry provides. Therefore, We will be a good manufacturing partner as your need. For more information, please send your inquiry to us. We'll be your best choice!

Nowadays, printed circuit board can be applied to almost every electronic product available. It is by far the most common way adopted to connect and assemble the components of almost any electronic devices. The PCB manufacturing method primarily depends on whether it is for the production volume and prototype quantities.

We are professional manufacturer offering complete end-to-end solutions of printed circuit boards. We not only provide customers with the advanced technologies and resources proven to lower costs and improve quality, but also fabricate the PCB within the best-in-class manufacturing standards.